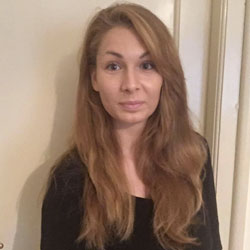 PERSONAL INFORMATION
Gender: Female
Contry of Birth: Croatia
MSc in: Molecular Biology
University of Zagreb | Croatia
MARIE SKLODOWSKA CURIE PhD FELLOWSHIP

ESR will be trained in molecular biology, with a specific focus on epigenetics. Furthermore, secondments will provide training in in vivo neurobiological experiments as well as other aspects, such as relationship between reproduction and eating disorders or analysis of food frequency questionnaire. In addition to research activities, special focus will be put on dissemination and communication of the project with the aim of acquiring transferable and intersectorial skills.
PROJECT TITLE

Gene-environment interactions in eating disorders and obesity and their relationship with the reproductive functioning.
OBJECTIVES

Our main objective is to evaluate the significance of epigenetic mechanisms in the progression of Eating Disorders (ED) and obesity in different animal models of the diseases. Next, we will evaluate the effects of nutrients with known epigenetic activity for their ability to control these diseases and body weight gain in animal models. In interaction with ESR3, we will assess how ED and obesity are related to reproductive health. Through collaboration with ESR7, we will investigate if specific alterations of gut microbiota may lead to behavioural as well as epigenetic modulation in the diseases under study. This research training should provide the ESR with essential neurobiological information of ED and obesity in the attempt to train her for future design and execution of research projects.
EXPECTED RESULTS

The project expects to reveal key genes that are implicated in progression of Anorexia nervosa, Binge eating disorder and obesity. In addition to that, we expect to find potential epigenetic modifications as drivers of genetic alterations, in particular DNA methylation and histone modifications. Furthermore, by administration of specific probiotic strains we will try to revert any observed genetic and epigenetic alterations and examine influence of gut microbiota on behaviour by in vivo studies.
PLANNED SECONDMENT

University "G. D'Annunzio" Chieti-Pescara
CURIOSITY

D: Why and what do you like about Teramo?

R: View over Gran Sasso mountains.

D: What is your favourite food local dish/food?

R: Even though I usually practice vegan diet, I couldn't resist trying arrosticini ;)