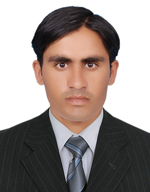 PERSONAL INFORMATION
Gender: Male
Contry of Birth: Pakistan
MSc in: Doctor of Veterinary Medicine
University of Agriculture | Peshawar-Pakistan
MARIE SKLODOWSKA CURIE PhD FELLOWSHIP

ESRs will be trained to obtain with improved nutritional and health benefits thanks to the complementary interaction of food technology, food microbiology and analytical sciences, by applying a problem solving and critical thinking integrated approach.
PROJECT TITLE

Evaluation of endocrine disruptors effects in animal models and their impact on consumer
SUPERVISOR and TUTORS

Supervisor

Internal tutor

Tutor
OBJECTIVES

To investigate the marine food chain pollution in Abruzzi (Bussi-Tirino) and identification of pollutants of toxicological relevance in samples of marine organisms (URV). This activity will be carry out in a specialized research center in the area of Technology Transfer in Toxicology, Food and Environmental Health by using the use of most sophisticated instruments (LC-MS, GC-MS, HPLC)(ISS, IPMA).

To identify the effects of climate change to marine organisms (using farmed meagre and mussels as models) in contaminated environments and assess the potential risks for consumers (IPMA) using specific software as Geographic Information Systems (GIS) or ArcGIS.

To verify the toxic effect of detected pollutants on neuroendocrine, reproductive efficiency, fetal malformations and reproductive tumor development in the zebrafish model; In this phase it is envisaged an interaction with ESR3, ESR6 and ESR7.
PLANNED SECONDMENT

First seconment: Starting date: 01/2018 | Final date: 02/2018 | Hosting Institution: University of Rovira i Virgili (URV) | External Tutor/Supervisor: Dr. Josep Lluis Domingo | Country: Spain | Duration in months: 02

Second secondment: Starting date: 03/2019 | Final date: 08/2019 | Hosting Institution: Portuguese Research Institute for the Sea and Atmosphere (IPMA) | External Tutor/Supervisor: Dr. Antonio Marques | Country: Portugal | Duration in months: 06

Third secondment: Starting date: 09/2019 | Final date: 01/2020 | Hosting Institution: Istituto Superiore di Sanità (ISS) | External Tutor/Supervisor: Dr. Sabrina Tait and Dr. Cinzia La Rocca | Country: Italy | Duration in months: 05
CURIOSITY

D: Why and what do you like about Teramo?

R: I like Teramo-Italy because it's a small city and surrounded by mountains, which is also surrounded by Adriatic Sea and beach nearby to visit.

D: What is your favourite food local dish/food?

R: I like Italian Pizza a lot as its Italy local and famous dish. However, not all pizza in Italy is made equal. And while there are endless opportunities to eat well in Italy, from street food to panoply of regional dishes, sometimes, all you want is a slice of pizza.