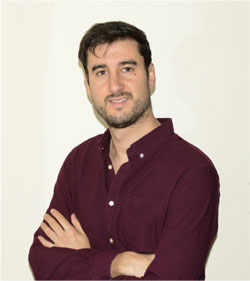 PERSONAL INFORMATION
Gender: Male
Contry of Birth: Spain
MSc in: Food Technology
University of Wageningen, The Netherlands
MARIE SKLODOWSKA CURIE PhD FELLOWSHIP

ESR will be trained to obtain food ingredients with improved nutritional and health benefits thanks to the complementary interaction of food technology, food microbiology and analytical sciences, by applying a problem solving and critical thinking integrated approach.
PROJECT TITLE

Development of encapsulated olive oil and olive extracts as innovative natural and health food ingredients.
OBJECTIVES

To produce innovative ingredients made of encapsulated olive phenolic extracts and olive oil with significant health propertie. Conventional and innovative encapsulation techniques investigated include freeze-drying and comilling (University of Teramo), extrusion (FUB), spray-drying and liposomes (UL).

To evaluate the technological functionality, quality and stability of optimized encapsulated extracts in collaboration with FUB.

To assess the healthy effect on in-vitro model systems, effects on microbial growth of encapsulated extracts on food- and gut-related microrganisms in collaboration with UL.

To determine health functionality, stability and bioavailability encapsulated olive phenolic extracts and olive oil in real food systems (gelled and emulsified type-products, eg. either fermented bakery or dairy products) in collaboration with FUB and Les.

To determine role of encapsulated olive phenolic extracts on tumor initiation and progression (ESR11)
EXPECTED RESULTS

Stable olive-based micro-/nano-encapsulated extracts for food production with high quality and health properties.

Use of olive-based encapsulated ingredients as alternative health and preservative agents and additives.

Production of innovative food products with a high health, nutritional and sensory properties and potential impact on Reproductive and Eating Disorders.

Improvement of the application of micro- and nano-encapsulation techniques in food and health.
PLANNED SECONDMENT

Academic secondment: Starting date: 05/2018 | Final date: 11/2018 | Hosting Institution: University of Ljubjlana | Duration in months: 08

Starting date: 11/2018 | Final date: 04/2019 | Hosting Institution: Free University of Bolzano | Duration in months: 04

Industrial secondment: Starting date: 10/2019 | Final date: 11/2019 | Hosting: Lesieur | Duration in months: 02
CURIOSITY

D: Why and what do you like about Teramo?

R: One of the good things about Teramo is its location both close to the sea and the mountains of Gran Sasso, and also not far from a bigger metropolis like Rome.
Also its gastronomy, that could be extended to all Italy, is rich and rooted to traditions, something I really appreciate.


D: What is your favourite food local dish/food?

R: Obviously here arrosticini must be mentioned, the delicious roasted sheep meat skewers. But also many pasta dishes like spaghetti alla chitarra con pallotine, pecorino cheeses or the much loved Easter dish, Le Virtù.